Introducing the Kaleidograph
Design 1
Design 2
Design 3
Design 4
Design 5
Design 6
Design 7
A Unique Pattern Design Toy
The Kaleidograph® can produce billions of colorful designs — a new creation each time the geometric die-cut cards when stacked, rotated, and flipped. A toy for ages 5+, the Kaleidograph is available in four versions; Crystal, Flora, Contrast and OpArt. All sets foster creativity, reward with surprise, and bring out the designer in everyone. The cards from all sets can be combined, for nearly trillions of design possibilities.
Made in the USA, the Kaleidograph was one of Dr. Toy's 10 Best Creative Products and received a 2012 Oppenheim Toy Portfolio Platinum Seal Award.
Design 1
Design 2
Design 3
Design 4
Design 5
Design 6
Design 7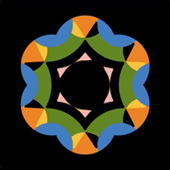 What people are saying ...
Shockingly satisfying to play around with. Itís the sort of toy I like to keep in the living room, on display, ready to be picked up by any guest or family member, because itís appealing to people of all ages.
The girls and I can't stop layering different cards on top of one another, then twisting and rearranging them to make thousands of pattern combinations. The cards are addictive, even for adults.
To kaleidograph is to understand the layers of relationships.
Bradford Hansen-Smith, Chicago, IL
I love it! ... these patterns remind me of playing with the seventh Froebel Gift ... the tablets!
Finella Scholtz, Toronto, ON — Froebel teacher