Introducing the Kaleidograph
Design 1
Design 2
Design 3
Design 4
Design 5
Design 6
Design 7
A Unique Pattern Design Toy
The deceptively simple, die-cut cards of the Kaleidograph® can be arranged into billions of designs. Based upon geometry in nature — the symmetries of crystals and flowers — the Kaleidograph upholds the tradition of the original, Froebel Kindergarten system that is known to have influenced Frank Lloyd Wright, Buckminster Fuller, Piet Mondrian, and design education at the Bauhaus. Watch the Kaleidograph in action or play with it online.
Richly personal and environmentally friendly, the Kaleidograph is a toy for all ages. Available in two versions, Crystal and Flora, both sets foster creativity, reward with surprise, and bring out the designer in everyone. Made in the USA, the Kaleidograph carries on a tradition of fascinating geometric design toys dating back to the early 19th century, and received a 2012 Oppenheim Toy Portfolio Gold Seal Award.
Design 1
Design 2
Design 3
Design 4
Design 5
Design 6
Design 7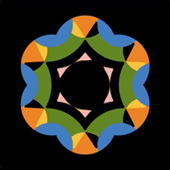 What people are saying ...
Shockingly satisfying to play around with. Itís the sort of toy I like to keep in the living room, on display, ready to be picked up by any guest or family member, because itís appealing to people of all ages.
The girls and I can't stop layering different cards on top of one another, then twisting and rearranging them to make thousands of pattern combinations. The cards are addictive, even for adults.
To kaleidograph is to understand the layers of relationships.
Bradford Hansen-Smith, Chicago, IL
I love it! ... these patterns remind me of playing with the seventh Froebel Gift ... the tablets!
Finella Scholtz, Toronto, ON — Froebel teacher